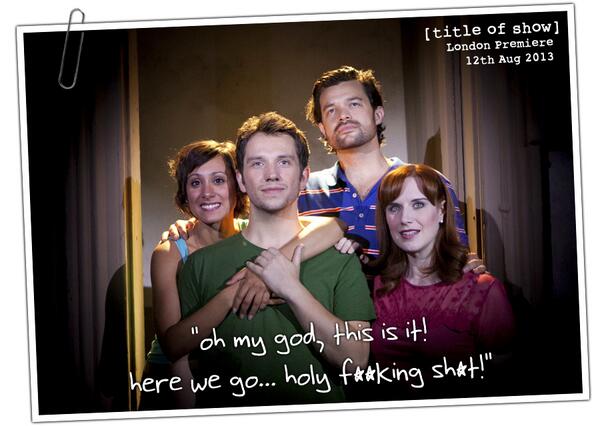 From the Landor:  "Three Weeks. Two friends. One original musical. [title of show] is a wickedly hilarious musical comedy about Hunter and Jeff, two struggling writers who decide to create a new musical for the inaugural New York Musical Theatre Festival. With a three week deadline looming but nothing to lose, they decide to try and create the show of their dreams, but soon realise that their mad dash to put pen to paper is infinitely more entertaining than the show they are writing. Their struggle to write a hit becomes the subject of the show, and so [title of show] is born, taking its name from the ominous space on the festival's application form. Chronicling its own creation and the real life story of Hunter and Jeff's journey to seeing their musical produced, [title of show] is a love letter to musical theatre, following your dreams, and daring to believe that you can actually get paid to do what you love."
Read Reviews:
My little #review of [title of show] at the @LandorTheatre (Friday's preview) http://t.co/xdUBiPbfyk @titleofshowLDN @scottgarnham

— Max Sycamore (@Pheatreland) August 13, 2013
West End Frame: Review: [title of show] at the Landor Theatre.
New York Times review for show in 2006